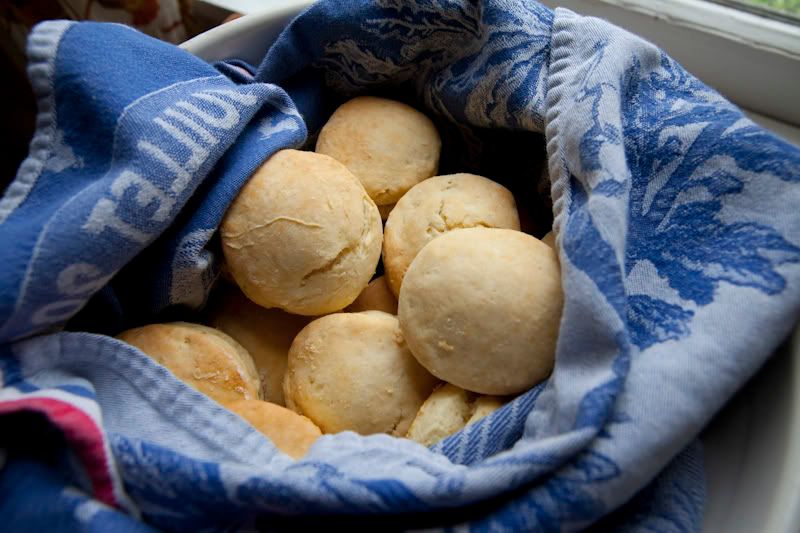 you will embarrass yourself if you eat these
biscuits in public! i substituted whole wheat
for half of the flour. that way, i didn't give a second thought
to eating (the exact number will remain unnamed)
so many of them.
saturday morning we had them with homemade
mustang grape jelly (thanks tata)
and pure-d butter.
Classic Buttermilk Biscuits
2 tbsp flour, for sprinkling
2tbsp cornmeal, for sprinkling
2 cups flour
2 tsp. baking powder
1/4 tsp. baking soda
1/4 tsp. salt
6 tbsp. cold, unsalted butter cut into pieces
1 egg
3/4 cup cold buttermillk
preheat oven to 425. Grease baking sheet and sprinkle with cornmeal and flour. in large bowl mix flour, baking powder, soda, and salt.
cut butter into flour mixture until it resembles coarse crumbs. add egg and buttermilk, stirring to moisten. dough should be shaggy, but not sticky.
turn onto floured surface. knead about 6 times. roll to 3/4" thick. don't add too much flour or will be tough. cut out with biscuit cutter....cutting straight down without twisting. bake 1/2" apart for 15 to 18 minutes.
it really helps to make sure your buttermilk and butter are very cold.